Ray White Erskineville | Alexandria | Surry Hills are proud to announce the opening of
The Property Gallery located in the heart of Erskineville.
This unique, versatile space exhibits our various residential projects and developments within the Sydney Metropolitan, with state of the art technology preparing for your new investment has never been so easy.
The Property Gallery offer advanced technologies to ensure that both our investors, and developers receive the highest degree of service and access like never before. Formulating a new approach to the way we service our clients.
CONVENIENCE
The Property Gallery offers an opportunity to view multiple new residential development sites simultaneously. We intend to help you find your ideal property from over several of our current projects, whilst considering your key prerequisites, and price range.
Our services cater to a variety of clients from the time limited, to overseas investors to ensure that properties are matched to adequately suit the individuals needs.
TECHNOLOGY
With the aid of virtual reality and 3D plans and home tours on our custom designed tablets, the Property Gallery brings your future home/investment to life. Allowing you to view the proposed apartment/building from every conceivable angle including both internally and externally.
Our virtual reality tours means you can 'walk through' a number of apartments without even leaving the gallery. You would never feel as close to being in a property with capabilities to open and close cupboard draws, take a peek at the steak on your BBQ or even change the entire color scheme of the apartment.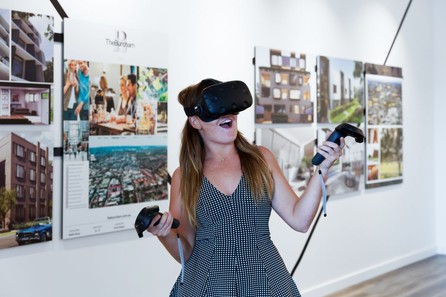 The property gallery is located at 59 Erskineville Road, Erskineville.
10.30am – 3:00pm Saturday and Sunday